PT Bali Primadana Gemilang is a company engaged in Non-Bank Foreign Exchange Business Activities (KUPVA BB). Has been operating since February 4, 2011, located in Bali, which has been trusted by many people in Indonesia and the international community. The company has 6 branches headquartered at Jl. Kartika Plaza No. 102 B, Kuta.
As one of the official money changers in Bali, we offer the best prices and services without paying commissions. We understand that every traveler needs safe and comfortable transactions in every service, that's what we offer here. We serve various currencies, namely USD Dollars, AUD, Euros, Canadian Dollars, Hong Kong Dollars, Pound Sterling, Singapore Dollars, Japanese Yen, Malaysian Ringgit, and several other names.
Can provide safe and comfortable services when making transactions, provide good and attractive prices for customers.
To be the best and trustworthy money changer in performance and service.
Pay no commission for our services
The process of exchanging money is easy and fast
Safe and comfortable transaction
Get the best price and service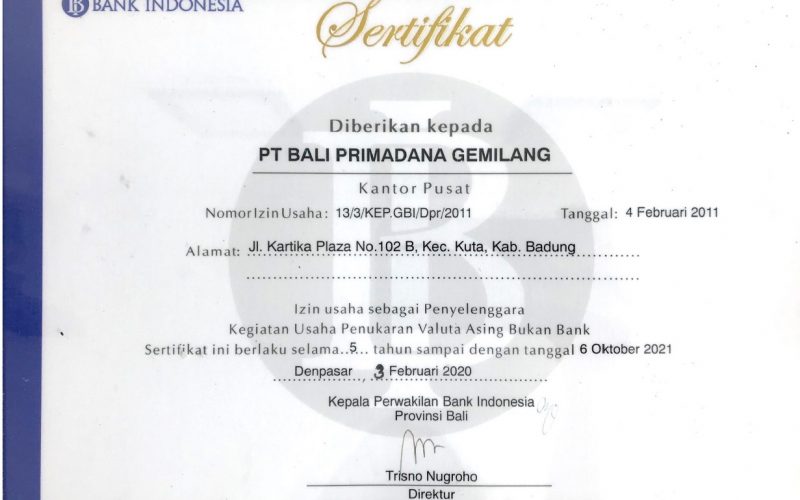 Why Choose Us
We believe in building high value, meaningful, long-term relationships with our clients
Expirenced
Over 15 years of experiences in the money service business has helped us acquire skills to better navigate this challenging industry
Customer Centric
We go beyond delivering what our customer wants. We constantly get deep into understanding their fundamental needs
Top-notch Services
We value our customers and hence, we work hard to provide the excellent service they deserve at every level all the time
Competitive Rates
When you reserve your foreign currencies from us online, you'll get a competitive rate and world class customer service.
Our Customers
Most of new businesses came from client referrals. Our clients love what we do and they go and shout about it over and over
Flexible & Hassle-Free
We're here to take the stress out of your money exchange experience by constantly introducing services to serve you better.
Our Core Values
The values that we embrace and we accept